Meet The Creative Crew
We care about the experiences you have at our studio!!
All of our Creative Crew are artists and are passionate about creating and teaching art.
When you come to a class at Art & Wine Co. you will learn real artistic techniques from real artists.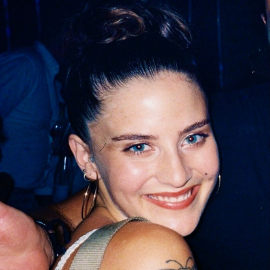 Oceana Piccone
I am a local artist born and raised in Byron Bay. Painting has been my driving force my whole life, I entered my first art expo when I was about 4 and have been involved in the creative arts ever since. I find art a way of communicating and letting go of the outside world, it fuels me and helps express the inner workings of my mind. I want my art to inspire others and to communicate a emotive message but most of all I want to share the beauty of art and to spread the fun and laughter it can bring with the world.
I absolutely love teaching. It amazes me to see everyone creations come to life and how their painting reflects themselves and their inner creativity that they might have never known existed, it's such a joy helping people find their spark. Almost every time, our students leave with a giant smile on their face, saying how therapeutic and relaxing that experience was. It's a pleasure and a gift to teach people how to paint, painting is a source of therapy and has always helped me. I can see it helps them to stop thinking and to have a break from reality, this is more than a fun night, it could potentially spark something inside you that could be life changing.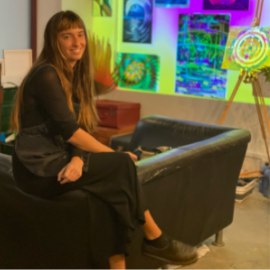 Stephy
I am Estefania Minniti, an Argentinian visual artist.
Being born in a big cultural pole like Buenos Aires was key for shaping me as an artist. My father was a big music lover and through him I started developing interest in music. Guitar playing was probably her first contact with art.
Eventually I developed a strong interest towards visual art; more precisely painting. I assisted Nancy Finetto's workshop in 2010 for two years, where I experimented with colours and human expression.
Since then, I have been working with different materials such as wood, fabric, thread, pastels, charcoal, photography and clay.
I love art in all its forms but my personal favourite is the one created through the body. I think it gives the art piece soul and character. I'm all about hearing what people interpret when they see my art work, it's always enriching and interesting how everyone creates a different story when looking at the same thing.
I would say what I enjoy the most about teaching is the feedback and the conversation while everyone is creating. We all learn from each other, and watching people get out of their everyday structure to enjoy becoming kids again and playing with clay is quite amazing.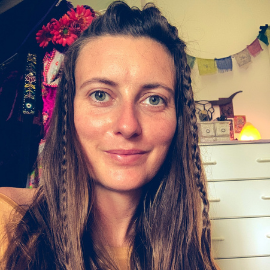 Tash
I loved art classes all throughout school, and sadly pushed art away not long after finishing high school, thinking I could never live in the "real world" being an artist. Thankfully art became a part of my life again in my late 20's whilst travelling South East Asia, where I began painting large murals in the places I stayed. Through synchronicity I met an actual big time artist and for the first time admitted I was an artist also! I now have a home studio where I am creating a large 44 piece body of work. I love working with mixed mediums, watercolour, acrylic, pens, and gold powder! I am also a practicing healer, working with reiki energy, sound healing, cosmic haircuts and massage.
I love my time assisting others to paint at Art and Wine Co Byron Bay, it's a delight to show those who say "I can't paint" that there is no such thing, and to see people like myself who rekindle their relationship to their creativity after shutting it down for far too long. There are infinite possibilities as to where the world of art may take us, or show us, and that is worth painting for.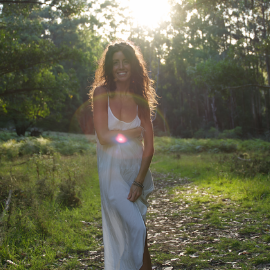 Chantelle Maree Tranchina
I knew I wanted to teach as a child… but not in the conventional way. I wanted to inspire and encourage students of all ages, to look beyond the box and limitations of society, their family and themselves. To see beauty in differences in others and within. I love teaching subjects I'm passionate about, art being one of them. To experience the pure joy on student's faces when they overcome a hurdle and achieve something they never thought possible. I'm a go-getter, I thrive on being out of my comfort zone. I love dancing, yoga, the ocean, nature, hiking, the environment, surfing and traveling! I've visited over 40 countries and lived and worked in several of them. I also like to run retreats, workshops and tree planting festivals in my spare time, alongside teaching in secondary schools as my main career. You may also find me teaching short courses in the Byron Bay Community College so keep an eye out! I look forward to teaching you and getting to know your stories while painting masterpieces!!! Light and love.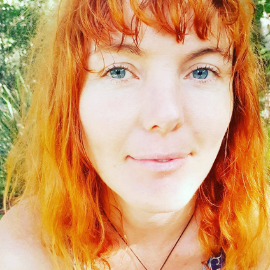 Maddy Hill
I'm a self-taught artist and mother based in the soulful town of Mullumbimby in Northern NSW. After completing a Bachelor of Environmental Tourism Management at Southern Cross University, my son Jaali was soon born. I then decided to follow my passion for visual art. I have studied a diverse range of visual art techniques, including natural history illustration, tattoo art, mosaics, pottery, digital art, and have attended several visionary art and mixed media workshops. I now own a small sustainable greeting card and fashion business called 'Moon Face' and I spend my days painting, teaching art workshops with Art & Wine Co. Byron Bay, as well as writing and illustrating children's books. I enjoy experimenting with a broad range of mediums like clay, mosaics, ink, watercolour, oil and acrylic paint. Creating art is a form of mindfulness to me. The creative process brings me great joy and I love sharing this joyful process with others.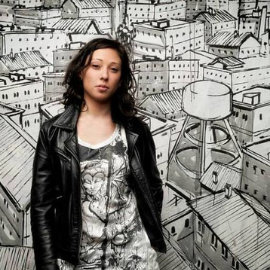 Giulia
Lover of nature, yoga, surfing, music, and art. Originally from Italy I have been living in the Byron area for the last 8 years. I have a passion for arts, and being a chef as my professions. I grew up with music, played in different bands, and grew up painting. Experienced in charcoal drawings and acrylics. Loving art as an expression of my true self. I love teaching at Art & Wine cause the environment is really chilled and people bring their own personalities and abilities on each night. I find it quite interesting at the end of each night to see different results based on everyone's capabilities and freedom of expression.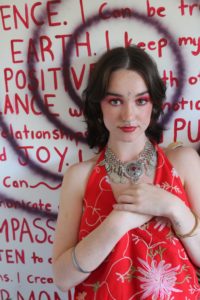 Bridget McPeake
I am a Bachelor of Contemporary Art graduate, hailing from Adelaide, South Australia, currently located in Mullumbimby. I have had the joy of exhibiting artwork and running exhibitions – which I hope to do much more of in the future! Although I am a mixed-media artist, utilising everything from beading to body-art, my heart has always been dedicated to painting – with both oils and acrylics. I am overjoyed to bring my knowledge and enthusiasm for painting to my students of all ages – and to show them how fulfilling the experience of creation can be! Through my art I am continuously exploring my internal and external world, which is an adventure I wish to encourage in others. Much of my work uplifts and brings to light the Divine Feminine and my personal sense of spirituality. My artworks are inspired by contemplations on spirituality, esotericism, nature, consciousness, and my Hungarian/Celtic heritage. These concernments of mine make their presence known in my work as they blend to create energised images.
I look forward to creating with you!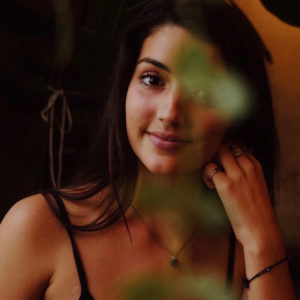 Sophie May
Sophie May is a Gamilaraay artist living on Bundjalung Country. She works with ceramic sculpture and mixed media painting, as well as photography and textiles. Sophie is in her third year of a Bachelor of Contemporary Australian Indigenous Art at Queensland College of Art (QCA) in SouthBank. She explores expressionism using both painting and sculpture making. Her work is loose, colourful and expressive, and is inspired by nature, emotions and her mixed cultural background. Sophie plays in the space outside of the box, beyond the lines. Having a passion for passing on cultural knowledge and skills, Sophie works with adults and children, running art-based workshops. She is passionate about the benefits art has on our mental well being, and believes it can be used as a powerful tool.